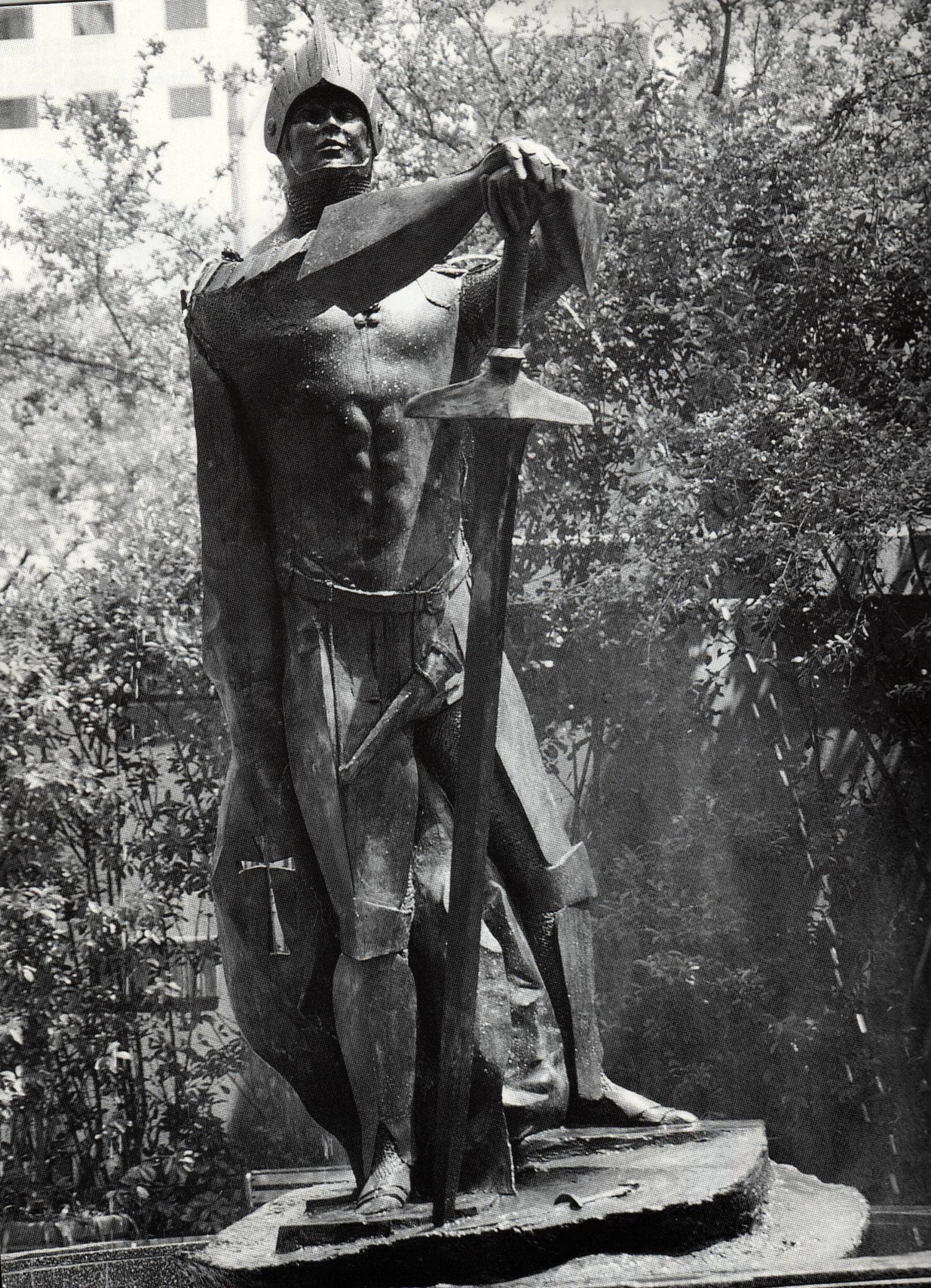 " ST GEORGE - 1993." Bronze sculpture 3600cm ( 12ft ), Commissioned by
James Sherwood for the Windsor Court Hotel, New Orleans, USA.
ST GEORGE IN NEW ORLEANS



The 23 April 1993, St George`s Day, in the courtyards of the Whiner Court Hotel, New Orleans, USA, was when a large bronze sculpture was unveiled. This project had taken John more than eighteen months to complete. The sculpture is the image of St George triumphant, having vanquished two dragons. Why this Subject in the city? " My brief was to, replace a rather whimsical female figure quietly pouring water from a jug, into a doughnut ring of a fountain, and to make a sculpture immediately identifiably British.

Considering the historical ramification between the British and New Orleans I thought the subject of St. George would prove a sensible solution to a rather tricky chauvinistic problem. It would give me also the opportunity to make an heroic image, a figure with some power and to have some fun with the fountain. Two dragons to give the narrative an awesome symmetry. The resulting image I am pleased with.

I set out to make the figure of a knight, that had some chivalry in his bearing, and the presence of a mythical hero. Equipped with armour and weaponry that look fit for the job. he appears to be capable of slaying dragons. The figure is ten feet high, standing on a base which is two feet high and includes the two creatures; on site the head of the knight is fourteen feet off the ground. The water I have used to create a mist from which the figure emerges, reminiscent of romantic Arthurian landscapes, with rainbows made by changing light."