Seth Garland – Modern Renaissance Figurative nude Painter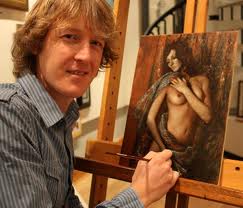 SETH GARLAND born in Cornwall, UK in 1977. His passion for painting stems from his background as his parents are both top professional illustrators, his father being best known for illustrating the Tolkien book jackets. This constant connection with the visual arts created a vibrant illustrative environment in which to grow up and where his obsession for painting began.
During his study at Central Saint Martins, Garland won second prize in 'The Art of Imagination Open Competition', held at the Mall Galleries, London and was their youngest prize winner at the age of 20. His paintings are influenced by the works of the Italian High Renaissance.
By reviving a Renaissance method (the same used by Leonardo da Vinci and Holbein) and marrying it with the compositional approach of fashion photographers, the result is a sumptuous hybrid of modern beauty and Renaissance nuances. His work shows an understanding of histories present within the painting process, his contemporary approach to panel painting uses contemporary subject matter to employ these techniques in a modern context.
NEW LAPIS LAZULI SERIES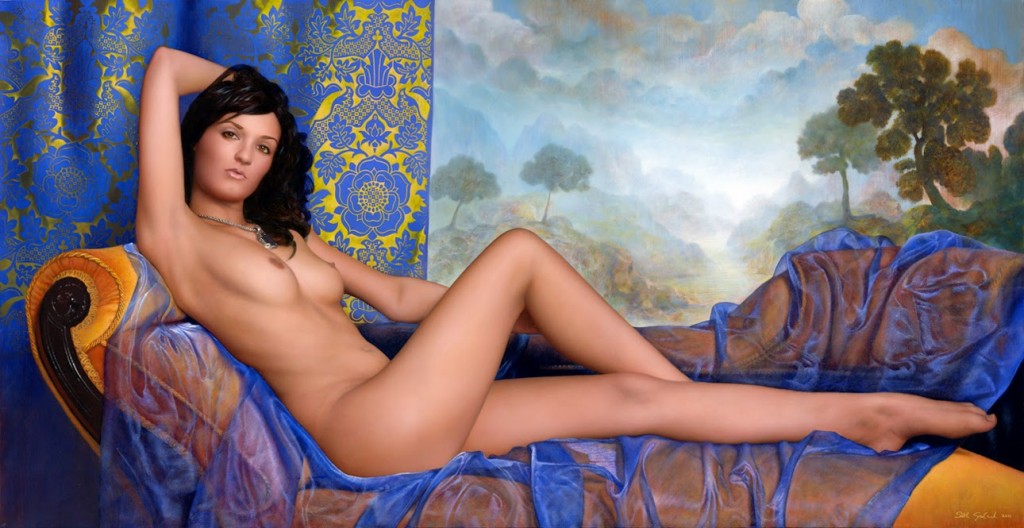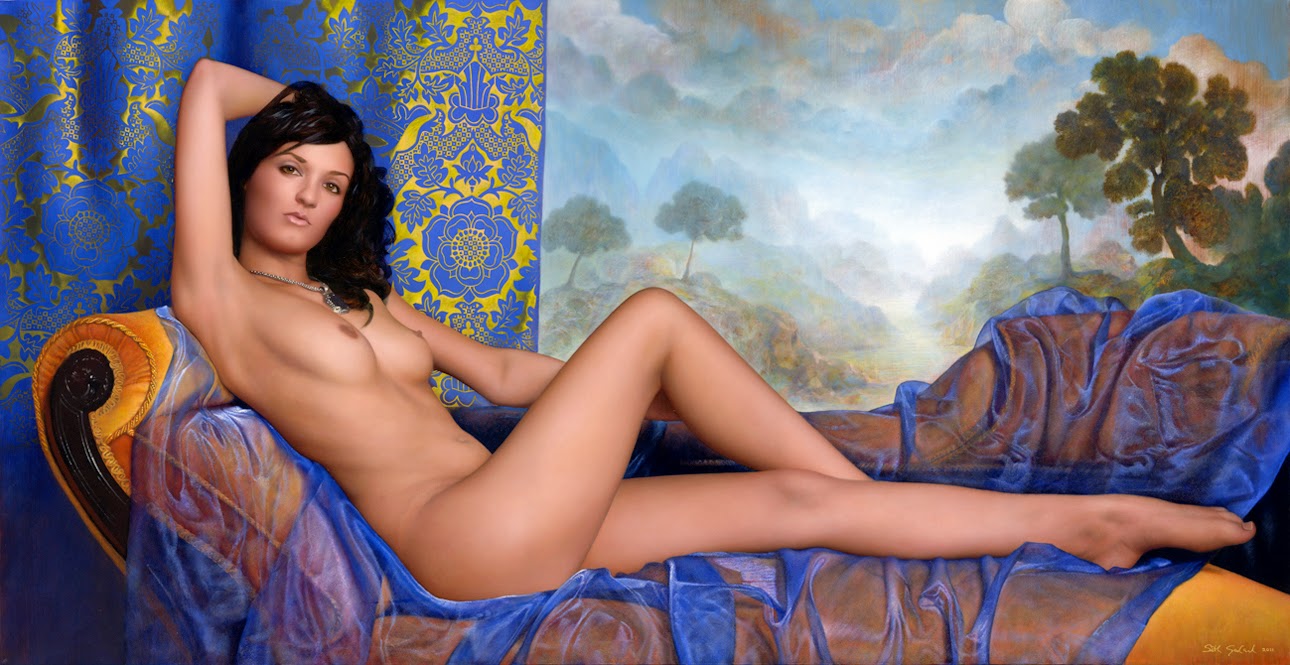 Original Oil & mix medium tempera on panel ( 98cm x 50cm).
His Collection in the gallery include his original oil paintings on canvas of female nude, with his studio studies, together with a collectors set of artist proof in a presentation portfolio limited edition prints.
I try not to make the paintings too much about the real world. Instead I like to think they possess a ethereal quality which is why I always include a landscape which intentionally makes placing the context of the sitter ambiguous. Representation and abstraction go hand in hand. In my opinion there is nothing more abstract than a Rembrandt. A cacophony of paint texture, translucent, opaque, syrupy and then you step back and it all makes perfect sense, this is what excites me the most as a painter.

My methodology stems from two main areas of interest. The first being hidden geometry, where the compositions are laid out to a strict formula. This underlying structure gives my work a common thread, linking individual pieces like painterly DNA. My second methodology is the technology of the paint. It is the emotive qualities of paint and how it can be manipulated to express a myriad of things which intrigues me.

Modern artists have been blessed with recent scientific discoveries into the composition of the paints used by the 'Old Masters'. It is this area of my work which dominates my every waking thought. I used to be obsessed about how paint was applied such as impressionism, expressionism but it dawned on me that to create something new I had to rediscover oil paint itself. To go back and explore what made the old masters possess such magic.

For so long I had been working with what I liken to a piano with only one key, and note by note I am adding more emotional texture. My studies are documents of this exploration.

For all private or corporate commission by our gallery artists, please contact
Sunil Vilas call 01462 677455 or
email: Sunil@vilasart.co.uk